By Jenny Paquet, Senior Environmental Planner, RIDEM Nonpoint Source Pollution Management Program.
The Narrow River Watershed has long been recognized as a special place. It holds important resources for the State and for the local communities, including scenic beauty, the estuary, wetlands, a drinking water source, historic and cultural resources along the rivers, a National Wildlife Refuge, and opportunities for water-based recreation, including fishing, shellfishing (currently banned), and swimming. RIDEM has been working with stakeholders, including the Narrow River Preservation Association, and the towns of Narragansett, South Kingstown, and North Kingstown to develop a watershed plan to both protect and restore the quality of the water resources and aquatic habitats of this watershed, so that they can be enjoyed for years to come. The Narrow River Watershed Plan final draft is now available for local review. (Comments are due March 27, 2020)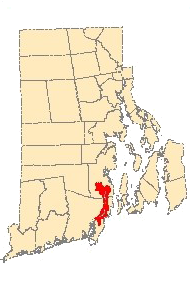 In some areas of the Narrow River watershed, the water resources and aquatic habitats are of excellent quality, and so the watershed plan focuses on their protection. However, in other areas of the watershed, waterbodies are not meeting their designated water quality goals, and so the plan also focuses on undoing the harm that has been caused in the past—and continues to be caused today. Many of the water quality problems and impaired aquatic habitat conditions are due to the link with surrounding land uses and development.
The Narrow River has a shellfishing ban due to high levels of bacteria. Other key concerns in the watershed include protecting the high-quality groundwater drinking water source; addressing high nitrogen levels in the estuary which threatens aquatic habitat; addressing phosphorus nutrient pollution and aquatic invasive species in the freshwater lakes; and protecting and restoring freshwater and coastal wetlands and their buffers to promote resiliency to climate change and to retain the valuable benefits they provide to clean water, flooding and erosion control, and wildlife habitat. Strategies to address these concerns are presented in the plan.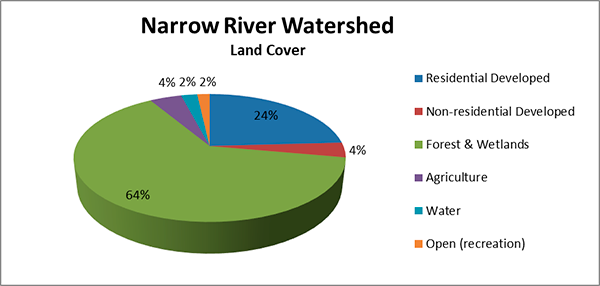 The Narrow River has been the focus of considerable study over the years. Development of the watershed plan relied heavily on this existing information. Discussions and workshops with staff from the local municipalities, state government, the Narrow River Preservation Association, and the other interested organizations provided valuable information and helped define goals and action items for the plan.
Any project applying for funding from DEM under the EPA Nonpoint Source Pollution Program authorized under Section 319 of the Clean Water Act must be consistent with an approved watershed plan. Qualifying projects in the Narrow River Watershed are now eligible for Section 319 funding.
Quick Facts about the Narrow River Watershed:
Watershed Area: 8,650 acres
Towns:

North Kingstown: 4,188 acres (48.4%)
Narragansett: 2,841 acres (32.8%)
South Kingstown: 1,621 acres (18.7%)

Major Waterbodies: Narrow River Estuary, Mattatuxet River, Crooked Brook, Mumford Brook, Silver Spring Lake, Carr Pond, Silver Lake